Snow time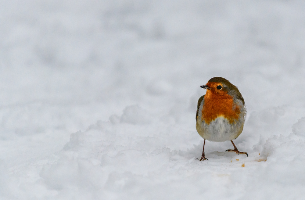 If you're dreaming of a white Christmas, remember that snow can be particularly tricky to do justice to; it reflects so much light that it can fool the metering system into underexposing, leaving you with dull, grey tones rather than the crisp, white reality.
The easiest way to combat this is to switch to Beach/Snow scene mode, which overrides the metering system to ensure bright, correctly exposed snow. If you have the option of exposure compensation control, try adding +1 to +2 stops compensation for brighter, whiter results; take a test shot, check the results on your DSLR's histogram and then adjust if necessary. What you want is the bell curve peaking centrally – if it's way over to the left, it indicates underexposure, while a peak far on the right means it's overexposing.
Altering the white balance can also help you enhance the bluey coldness of a snowy scene or boost the warm glow on the landscape from a weak sun struggling to shine. If you find you're battling too much brightness on a snowy scene in strong bright sunshine, try using a neutral density (ND) graduated filter to cut down on all that reflected light; it's also a great way of boosting contrast between clouds to lift flat, boring and overcast skies.
There's nothing like pure, pristine snow blanketing the landscape and turning familiar, pedestrian scenes into alluring photo opportunities, but shooting it before it's been trampled on by all and sundry does involve an early start. And, of course, take care with your own footprints when you're reccying a scene… Another point to remember is that, with the sun generally low in the sky, it can be difficult to avoid it shining straight into your lens and causing flare. A lens hood can reduce this if you have to shoot with the sun in the frame.
Snow also brings great opportunities for candids – people sledging, snowballing, building snowmen, trudging through it. Choose a long lens setting and you might even be able to capture the action through the window from the comfort and warmth of your own home!