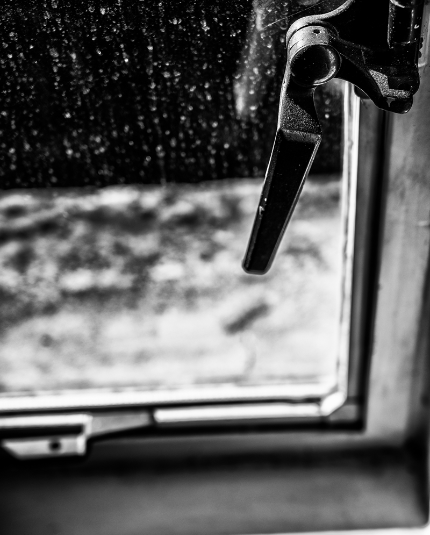 There are, in fact, some interesting photographic advantages to spending time at home. When we are indoors there are many spots around your home that can be turned into great photographic locations if you understand how to work with window light. Here are some tips and techniques that explain how to work with window light so you can get creative with your camera and take some great images in your home.

There are many ways to use window light, all of which give various different types of lighting patterns. Where you put yourself as a photographer and where you place your subject in relation to the window will also have a huge effect on the image. When we work with window light, we are shooting with directional light. This gives us the option of using the window light as a side light, front light or back light.
When working with light, as a general rule, the larger the light source is in relation to the subject, the softer the light is. The smaller the light source is, the more intense the light will be. Small light sources will also often create very hard and deep shadows.
Window Light
Perhaps surprisingly, the weather you have will determine the type of shots you can take, even indoors. There is not necessarily a best time of day to shoot. The window light will be warmer at Sunrise or Sunset, but we can achieve this same look to a degree by altering our white balance settings in camera. A cloudy day will give you flat light, which is very soft and good for portraits, whereas a bright day with sunshine streaming in, is maybe better for other subjects. Direct sunlight does work well for portraits, but this type of light can be challenging. If you are up for the challenge, however, It is worth persevering with this type of light, as the resulting images can look very striking and dramatic. This is my favorite kind of light to work with as you can do so much with it.
If you have large windows, sometimes you can have too much light for the image you have in mind. Slightly drawing a curtain or closing blinds can act as 'barn doors' or a 'snoot' to create shafts or pools of light that you can work with. You will have to experiment with this to get the best light for your image. The smallest movements to the placement of your subject will transform the look of your image when working with window light.
Almost any window in your house will make a good light source, as long as there is enough space for you to shoot the image you want. Any north-facing window is usually good for flat light since it will never have direct sunlight coming through it, though this can also be achieved with a west facing window in morning or an east facing window in the evening. If it is overcast or cloudy you can choose whichever window you like.
Different types of Light:
Front lighting
This is essentially shooting with the light coming from behind you and then striking your subject. It should produce an evenly lit image with shadows falling behind and away from the subject. However, be very careful that you do not 'shadow' your subject, completely blocking the light coming from behind you. Sometimes you may need to crouch down or move slightly to the left or right of the window so the light can still hit your subject.